The AM-GT Electric Bicycle is coming to town very soon!
With the recent approval of 48V Powered E-Bikes in Singapore, The AM GT will definitely be the next Best E-Bike especially for the Food Delivery Community.
Now, why are we so brazen to say such a statement? Naturally as human beings, we would want to have the Best Product there is on the market. We would definitely not mind investing in it if it is worth the buy.
Let us tell you, THIS IS THE E-BIKE WORTH INVESTING IN.
Power Capacity
With a 840 Wh (48V, 14.5Ah) Power Capacity Battery, the AM GT definitely beats the ever so popular Ji-Move MC that has a 750Wh (36V, 20.8Ah) Power Capacity Battery.
Depending on your weight, this E-Bike is expected to reach up to 150km per full charge as compared to the Ji-Move MC which is expected to reach up to 100km per full charge. Even after you have completely used up the battery, you can still pedal it like a regular bicycle.
The AM GT is now the new king of the throne.
Instant Power Assist
We managed to test this theory out with the one and only sample model in Singapore currently.
The Power Assist in this E-Bike is insane! Regular E-Bikes would require minimally 1 full cycle of a pedal before you can feel the power assist pushing you through.
However, with the AM GT, you only need to allow your feet to touch the pedal slightly and you would be zooming already!
In the long run as you cycle, you will realise that you would only need minimal effort to get the E-Bike moving.
Easy Maneuver
Tested and proven! Due to it's small size, it is definitely easier for you to control and move easily.
However, it doesn't mean that this E-Bike is small and would only suit smaller people. It is still comfortable and for a 172cm person like myself to feel comfortable while riding it.
With the pedal located quite low on the E-Bike and the seat being adjustable, it would definitely still be suitable for people of all heights.
Suspension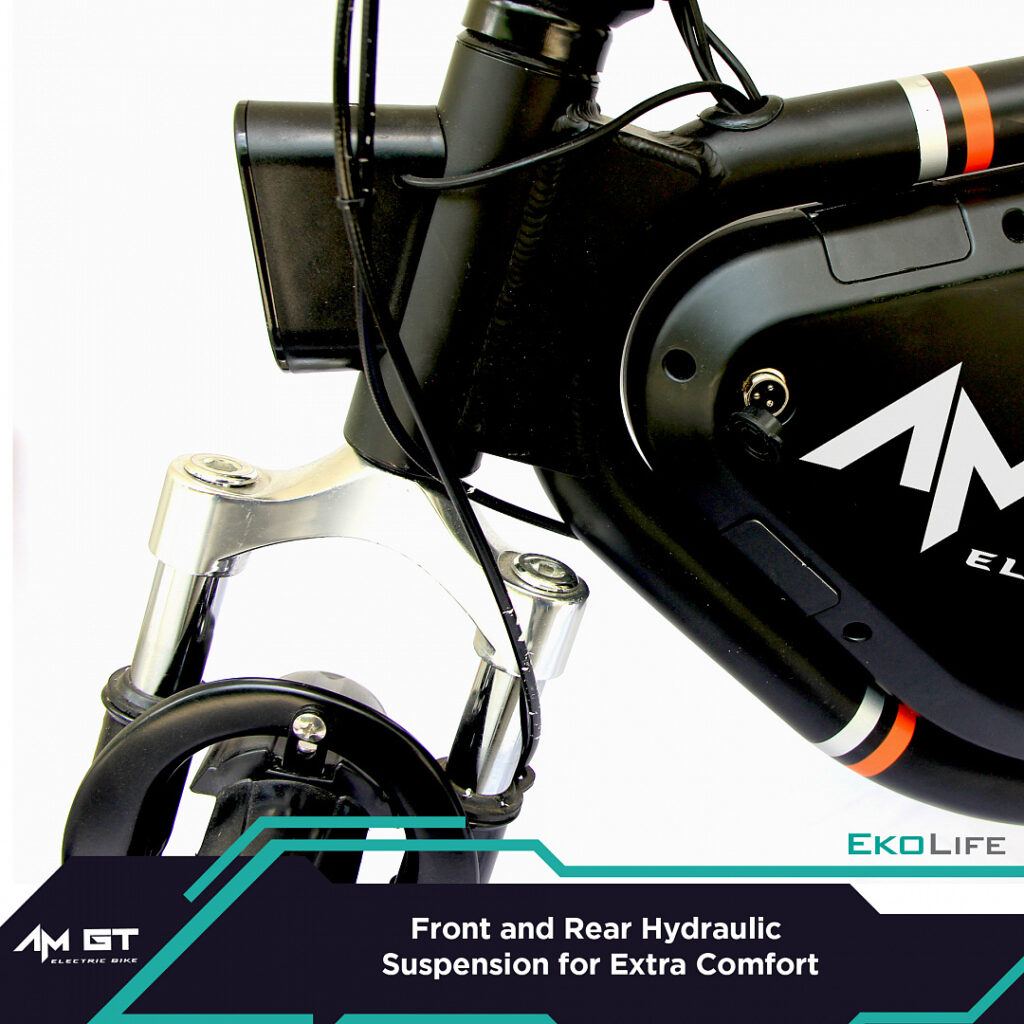 This E-Bike comes with a set of Front and Rear Suspension. Not many of you know this but suspension is one of the most important parts of an E-Bike as it also determines the level of comfort you will achieve while riding it.
Without a suspension, you would often find yourself feeling uncomfortable on your bottoms because of all the bumps you've been through while on the road for the last few hours.
With riding on the roads being one of the pathways an E-Bike is allowed to be on, there might be uneven surfaces along the way causing a lot of shocks to your riding experience. These can be easily avoided thanks to a frame suspension.
Price Promotions (for pre-orders & trade ins)
This E-Bike will definitely be the next biggest hit once it lands and the best part about it is that you can enjoy up to $450 OFF when you Trade In your Express Drive to Pre-Order AM GT OR enjoy up to $100 OFF when you Pre-Order without any Trade-ins.
Do take note that these prices are only for Pre-Order. Original Retail Price of the E-Bike is $1599. EasyRide Instalment Plans are available as well.
Yes, AM GT is the Best E-Bike
We hope these points prove to you that the AM GT E-Bike is the Next Best E-Bike in town after Ji-Move MC has been on the spotlight for quite some time. Once the stocks reaches, they will disappear instantly. Just like how consumers reacted to the release of the Ji-Move MC.
Feeling the hype of finally getting yourself an AM GT? Don't worry, it is LTA Approved! Drop us a DM on our Facebook Page now to find out more about it or our EasyRide Instalment Plans today!