The rules and regulations set by the Land Transportation Authority (LTA) may seem a little suffocating for Electric Bicycle Riders to ride at ease. What people don't realise is that there are a lot of Parks or Reservoirs in Singapore that are still available for an enjoyable ride!
Here are 5 Beautiful places that you could perhaps bring your E-Bikes for a ride!
East Coast Park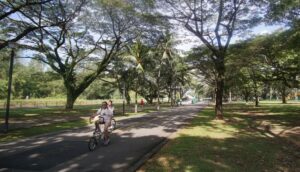 You probably would agree but East Coast Park might just be one of Singapore's Favourite Beaches especially for family gatherings. This beach stretches along the southeastern coast of Singapore from Marine Parade to Bedok and Tampines.The 185-hectare (460-acre) East Coast Park is also the largest park in Singapore, and is built entirely on reclaimed land with a man-made beach, where swimming is possible.
Other interesting facts about this location is that you could just spend the rest of your day after a good ride by watching the aeroplanes that land or take off from the shores. 
Rowers Bay Park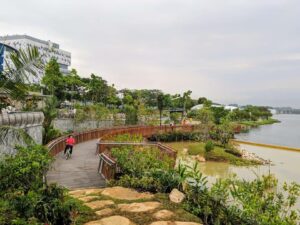 As the name suggests, Rower's Bay Park name was derived from the reservoir's popularity among kayaking and dragon-boat enthusiasts. It's part of the first phase of the Round Island Route that will stretch for as long as 150km and would also mean that you would be able to cycle around the island! 
In the meantime, you can just enjoy the beautiful scenery that this park offers – it's one of the best lowkey places to catch one of the most beautiful sunrises and sunsets. Amenities in the park like shelters, vending machines, a do-it-yourself bicycle repair station and toilets are also available for cyclists or those seeking reprieve from our tropical heat.
Bedok Reservoir Park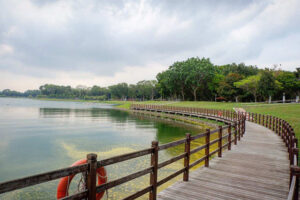 Located in the north of Bedok New Town, Bedok Reservoir Park is popular amongst joggers and water sports enthusiasts in the eastern part of Singapore. A converted sand quarry, the park surrounds the 88-hectare Bedok Reservoir.
You might want to relax after an enjoyable ride and enjoy the scenery from the benches that are conveniently placed throughout the park. Visitors can experience a refreshing sense of tranquility at the floating deck, situated near the Activity Lawn event site, which offers a spectacular view of the reservoir.
Woodlands Waterfront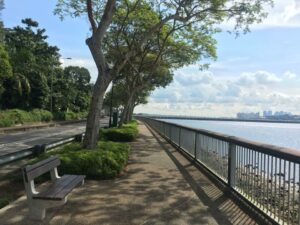 Woodlands Waterfront is a 11-hectare scenic and tranquil coastal park that houses a large playground with a wide range of equipment and a 1.5-kilometre-long waterfront promenade, making it an ideal spot for recreational activities. This place is also where your phone signals might get confused whether you are in Singapore or Malaysia because you are really that close to Johor Bahru, Malaysia.
The undulating terrain of the park is also fitted with dedicated jogging and cycling tracks, providing exercise enthusiasts with both adventurous and challenging trails.
Marina Bay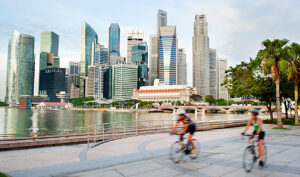 For those that enjoy the city landscape of Singapore, this location would be best suited for you. Riding around Marina Bay exposes you to stunning views of the iconic skyline. We'd recommend starting this 11-kilometre cycling journey at sunrise or sunset as it's one of the best places to see the city bathed in glorious golden hues.
Begin at Marina Bay Sands before wheeling across the Helix Bridge, continuing towards the Esplanade and Merlion. Be careful not to speed your way through the Marina Bay Waterfront as it can get quite busy with crowds.
Before You Go
These are only a few of the places that you could visit. There are many other parks that you could explore on NParks Website to see which Parks are legal or illegal for E-Bike riding. One thing to always take note when bringing your E-Bike out is to always watch what path you are on. Electric Bicycles are only allowed on Shared Paths or Cycling Paths. We understand that sometimes you may not even notice that the path you are on is a footpath or a Pedestrian path only hence why we advise that you stay aware of your surroundings at all times to be safe from that $2,000 fine.